How to make an event 100% online
This is not, at all, the scenario we expected for the beginning of 2020. But it's the scenario we must deal with, the reality we must face. It's the challenge we must overcome for all our events.
We have adapted our lives to social distance, took our work on our backs and installed ourselves at home wherever we could: at the office (the lucky ones!), in the living room, bedrooms, kitchen or on the balconies. We took a deep breath and waited a few days. A few weeks. But now, events and business cannot wait any longer. The mindset is to ADAPT as much as possible and COMMUNICATE as fast as you can.
But how to innovate in the events' industry in times of social crisis? It's simple! Transfer it to the web.
How? At Last2Ticket we leave you a step by step list with the crucial points you should approach while transfering your events to their online version.
1. Adapt the event type to the digital reality
Although there might be some event types apparently more challenging to adapt to an online reality, the secret is to focus on the true objective: deliver the content's message to the public.
If you're organizing concerts, challenge the musicians to intimate versions and turn the concert into homemade acoustic versions.
If you're organizing theatre plays, challenge the actors to make immersive experiences of the characters in their homes.
If it's talk shows, challenge the speakers to make live sessions from home.
Creativity gains wings when we focus on event solutions instead of problems.
2. Organizing online events? Use online event software
The venue? Worldwide!
You may not see it as such just yet, but transferring events to the digital world can make miracles for your treasury: transferring the event to a digital room can remove the burden of renting a space, or free it for simultaneous events.
There are several online softwares that do a great job in creating virtual rooms, many of them with free versions. Take a look into platforms like WebinarJam, Zoom or Google Meet, or explore private video solutions on  Youtube, if your event does not need to be live.
Making money out of virtual events? Of course!
Once the initial contours are in place, it's time to start managing all the other event aspects with help of event tech: when will it take place, whether it will have a maximum capacity (especially important for platforms with private broadcasting), and incorporate all of this in tickets.
How? It's simple: you can place the tickets on event management softwares like Last2Ticket, and insert a private link that allows access to the event in the event registration email like in the example below: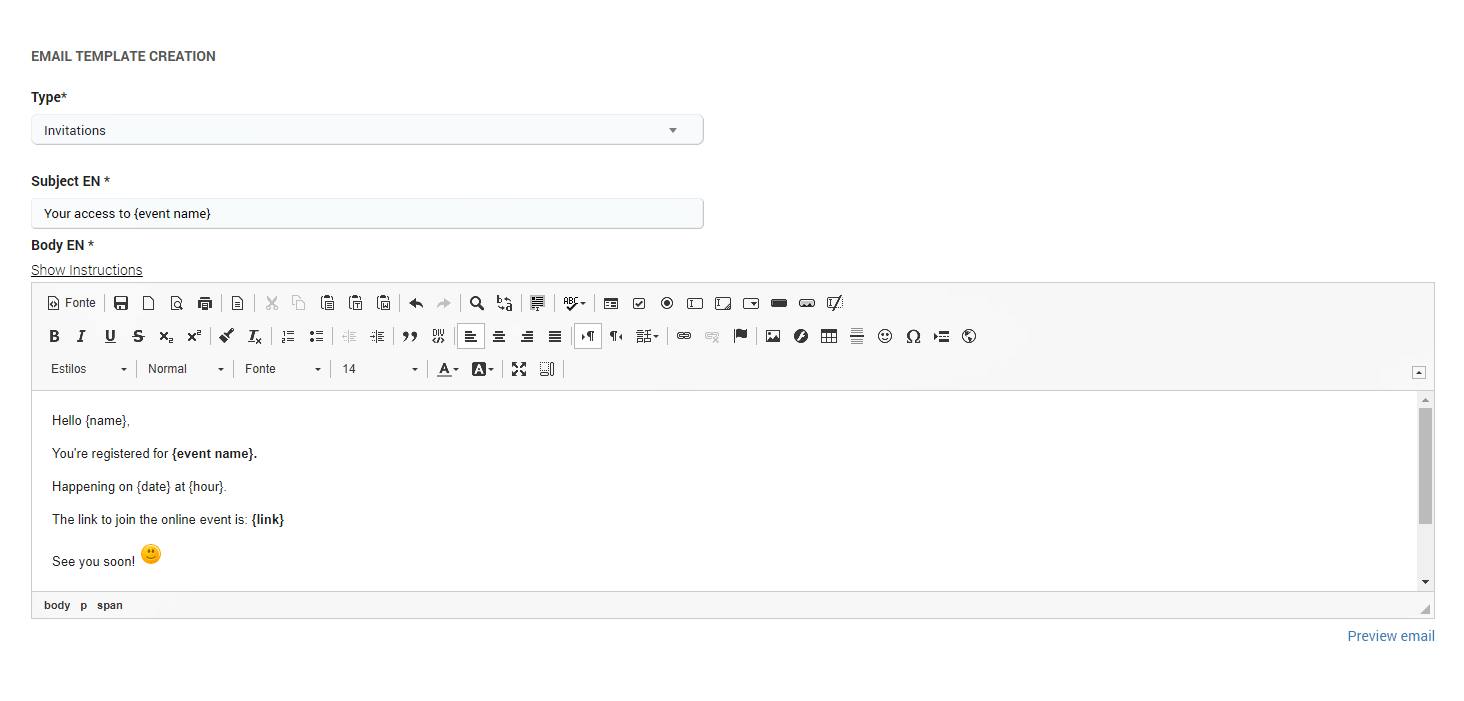 This way only those who have reserved their place will automatically receive the needed data to participate.
Simplifying the change is the key for success!
3. How to spread the word? Hold on to email and phone
Do you have a contacts' list that you usually use for your events (or that you have been saving for some reason and to whom you only send a newsletter on the 7th day of each month)? Here's a good time to use it! Promote your event by sending invitations to see if people are going to attend. Make the experience fun and participants curious, we promise it will pay off.
And before it comes to your mind the monstrous work and time contacting that excel file will take, discover solutions that allow direct import of lists for automatic sending of emails (again, here we are!).
4. Promoting the virtual event? Long live the quarantine! (kidding)
The quarantine triggered the use of social networks: Facebook, Instagram, Linkedin, TikTok and Twitter, any of them now has a much higher audience at any time of the day, and it's time to make the most of them for your event marketing.
Create your virtual event quickly and promote them directly on social media, taking advantage of the fact that, for a change, events do not have to be placed on the late afternoon of Thursday or Friday in order to have public. They're open channels to a totally bored public, enjoy!
5. Together we're (all) stronger. Reward those on your side!
Reward attendees for being part of the change. Make sessions with artists, offer autographs, discounts to takeaway restaurants with whom you partner, vouchers for events throughout the year, whatever your audience can assign true value to.
Remember that in natural selection is not the biggest, the strongest or even the most beautiful that survives, but the one that's able to adapt the fastest. We are side by side with you to be part of the solution and help with the change!
Create online event