TEDxPorto: How a conference manage perfect events
year after year
In the spirit of ideas worth spreading, TEDxPorto is a program of local, self-organized events that bring people together to share a TED-like experience. At a TEDx event, TEDTalks video and live speakers combine to spark deep discussion and connection in a small group.
Now on the 10th edition, it has received more than 10 000 participants over the years selected from more than 60 000 applications received.
+6
Years of partnership
+12 000
Inscriptions in 10 editions
+6 000
Participants in 10 editions
+12 000
Applications over 10 editions
+6 000
Participants over 10 editions
"Last2Ticket subscription is extremely important as it adapts to our TEDx conference innovative solutions."Norberto Amaral, TEDxPorto coordinator 
The Challenge
When TEDxPorto took the decision to start organizing its conferences, they knew that an event management software would be vital to its success. It needed an easy-to-use system that would manage submissions, help set agendas and provide a flexible registration process.
It was in early 2012 when Last2Ticket approached Manuel Forjaz at the initial days of TEDxPorto - the most important and respected TEDx in the country.
Manuel Forjaz was a dreamer, so our CEO approached Manuel to dream about the solution he aspired to his conference. That moment was the beginning of a long-term partnership.
The Answer
TEDxPorto application process (yes, participants need to apply to attend TEDx) and all the management processes including Last2Ticket's event management tools and interfaces to communicate with the participants are being used and improved since 2012.
Using Last2Ticket as their all-in-one event management software was crucial in not only achieving specific KPI's but also embracing a holistic approach to event management. Event processes and tracking attendee information became one automated flow, from online, to payments and badge printing. The process is now easy to manage, saves valuable time and significantly reduces waste.
Detailed registration forms are easy to set up, with added payment facilities. From sending personal invitations, event badges, for fast check-in app, Last2Ticket has also made the process of submitting, reviewing and distributing applications a whole lot simpler with a unique link. The system creates valuable reports which can be filtered. The reporting tools also provide important insights on attendance, session selections, and cross-event revenue streams.
TEDxPorto uses Last2Ticket event management tools end-to-end in organizing the biggest TEDx conference in the country!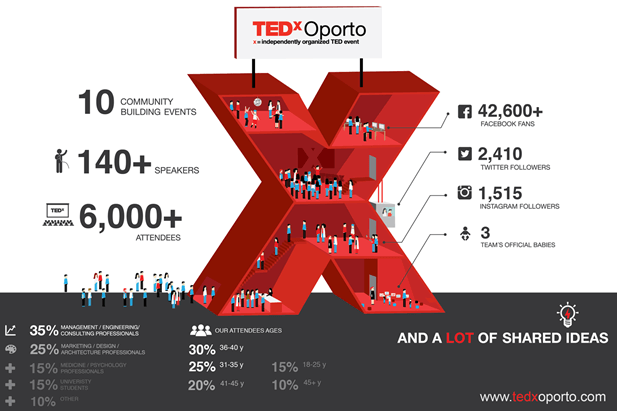 SHARE ARTICLE
Check out other case studies